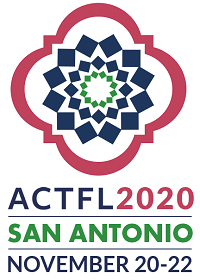 Call for LaunchPad 2020 participants
Application deadline: April 30, 2020
The LaunchPad, sponsored by ACTFL and the Language Flagship Technology Innovation Center at the University of Hawaii, features first-time entrepreneurs who have created a technology product intended to fill a need in world language education. A panel of experienced professionals and attendees will provide input and decide on a winner based on the pedagogical merits of the product.
The exciting fast-paced five minute pitches by the entrepreneurs followed up by questioning by the "investors", in the style of Shark Tank, was really fun to watch and unique from any other convention session.  ACTFL is proud to support the kind of innovation through LaunchPad because, in this way, language professionals through the panel of judges as well as the audience voting can have input into the development of technology applications that truly help to develop language proficiency in our learners.
Event Overview
The LaunchPad competition consists of a 90-minute session at one of the convention venues during which a small group of startup companies pitch their innovation and receive feedback from a highly specialized group of judges and and an audience of world language educators. The winner of the competition receives an honorary plaque from ACTFL and the Language Flagship Technology Innovation Center. All participating companies showcase and demonstrate their products at the Tech Center booth during ACTFL World Languages Expo hours on November 20-22, 2020.
About the LaunchPad
The Language Flagship Technology Innovation Center (Tech Center) and ACTFL are prime sponsors of the LaunchPad. The Tech Center is an initiative sponsored by the Defense Language and National Security Education Office (DLNSEO) and its mission is to enhance The Language Flagship experience through the effective use of technology.
The American Council on The Teaching of Foreign Languages (ACTFL) hosts the ACTFL World Languages Expo, which brings together more than 8,000 language educators around the world from all languages, levels, and assignments.
Benefits
The Language Flagship Technology Innovation Center (Tech Center) will provide shared booth space at the 2020 ACTFL World Languages Expo at no cost for qualifying participants.
Exposure to thousands of language educators and several successful companies in the field during the ACTFL convention and through the Tech Center News and website.
Participants will be featured in promotional materials distributed to over 6,000 ACTFL members prior to the conference.
The Tech Center will add your company to its network of 31 language programs at 21 leading institutions of higher education and will invite your company to participate in selected Tech Center-sponsored events.
Past participants will provide mentoring for the competition.
Inclusion in our network of innovators, which includes highly specialized professionals in the field of language learning technology.
Winners will be featured in promotional materials for the 2021 event.
Qualification Criteria
Companies must meet the following criteria:
Must be a seed- or early-stage company (must not have raised over two million in funds from combined funding sources) with a main focus on the language education market.
Have a language technology product, process or service in use by customers or early beta (testing) customers at time of application.
Have not been an exhibitor at a previous ACTFL convention.
Competition Rules
Companies may present only one technology product, process or service and are responsible for protecting their own intellectual property (IP) rights.
Each company has an equal amount of time to present but may opt to forgo presentation time for feedback.
Working with the Tech Center Launchpad has given VEO an excellent platform to build exciting partnerships in language education. In concrete terms, VEO has been able to form work with another growing Edtech platform that will see our software integrated into large-scale cross-cultural projects at University level, in addition to widespread trials with Language Flagship Universities in the US. The Launchpad team are extremely approachable and fantastic to work with. Aside from enjoying working with such enthusiastic and knowledgeable partners, I'm sure the long term benefits of our collaboration will be truly transformative for our business.
About ACTFL world languages expo
Contact Information
TECH CENTER
1890 East West Road
Moore Hall 256
Honolulu, HI 96822
(808) 956-5121
tech.center@hawaii.edu