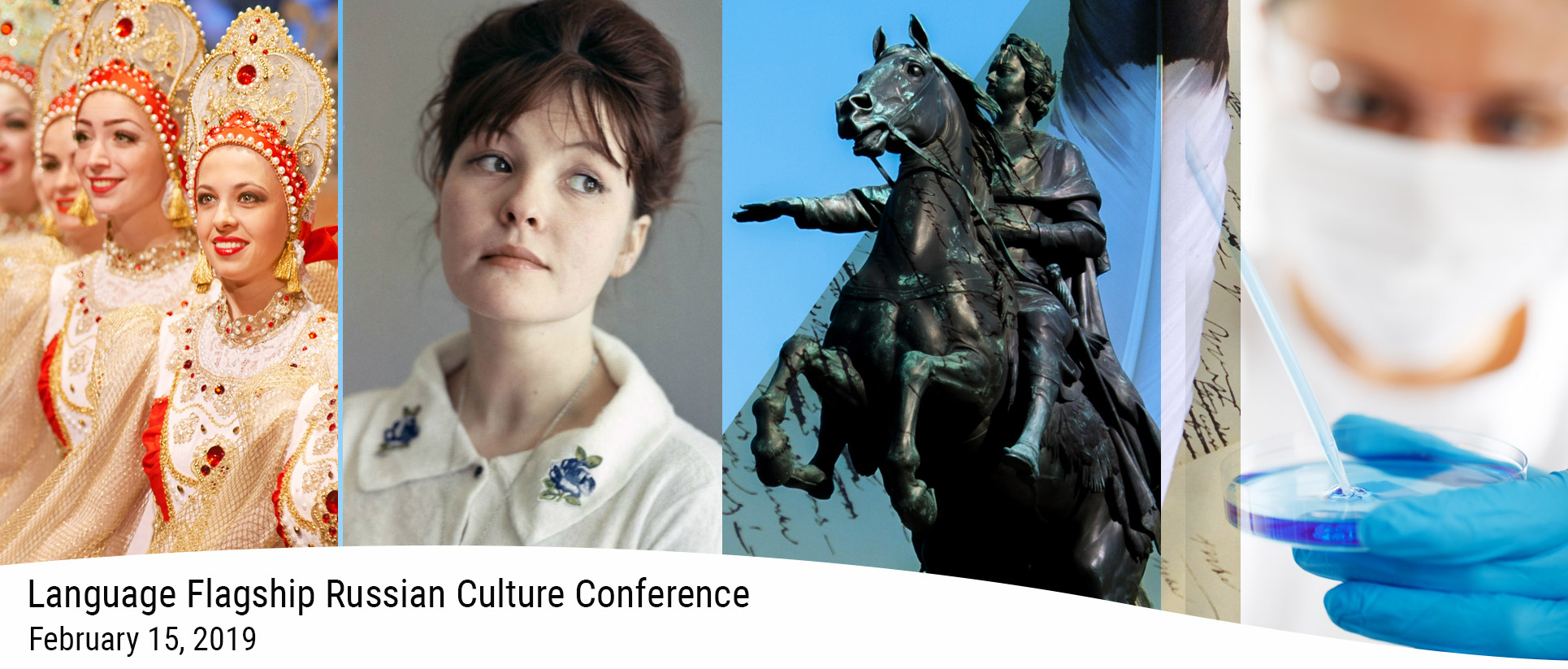 10am HST – 12pm PST – 1pm MST – 2pm CST – 3pm EST
About the Conference
The Language Flagship Russian Culture Conference is an online event organized by the six Russian Language Flagship Programs with the support of the Language Flagship Technology Innovation Center to showcase select student presentations on various aspects of Russian culture. The conference will be conducted entirely in Russian and chaired by Dr. Karen Evans-Romaine, Director of the Russian Language Flagship Program at the University of Wisconsin – Madison. To join the conference, click on the Live Video Broadcast.
Conference Program
Introduction by Dr. Karen Evans-Romaine, Russian Flagship Program Director, University of Wisconsin – Madison
The Bronze Horseman by Kennedy Lee (University of Wisconsin – Madison)
National Pride: A History of the Formation and Success of Diaghilev's Ballets Russes by Bailey Aguilar (Bryn Mawr College)
Sadko in Folklore, Painting, and Music by Anna Nehyba (University of Wisconsin – Madison)
History Turns into Stone: Stravinsky's Neoclassical Approach in the Opera "Oedipus Rex" by Jessica Rhee (Portland State University)
Writers and Artists of the Sixties: A Moment of Freedom during the Thaw by Meghan O'Keefe (University of Georgia)
A Comparison of the HIV Infection Rates in Kyrgyzstan and Russia by Melissa Miller (University of California – Los Angeles)
The Process of Language Death and How to Save an Endangered Language by Floyd Palmer (Portland State University)
Hospitality in Russia, India, and the US by Sashini Kannan (Bryn Mawr College)
Technology Note
This project leverages the affordances of live video-streaming technology to support the needs of Flagship language learners. The technology used in this project makes pedagogical innovation possible through an online event that gives students an opportunity to meaningfully use the presentational mode of communication and showcase their language skills to the entire Language Flagship community. Technology itself is not the focus of this project but fulfills a major role: It brings together Flagship students and instructors into a common experience that creates opportunities for contextualized and meaningful language use. The products of this experience (i.e., presentation recordings) not only showcase students' language ability, but also become samples of presentational mode of communication that fellow language learners from any Flagship program can learn from. These products can also be used by students as portfolio artefacts demonstrating their language learning trajectory.
FEBRUARY 15, 2019 10am Hawaii - 12pm PST - 1pm MST - 2pm CST - 3pm EST Duration: 15 mins Presented by Kennedy Lee, University of Wisconsin – Madison ABSTRACT The Bronze Horseman is much more than just a statue in the heart of St. Petersburg. At the time of its...
read more
Contact Information
TECH CENTER
1890 East West Road
Moore Hall 256
Honolulu, HI 96822
(808) 956-5121
tech.center@hawaii.edu